We're pleased to offer the following services at Happy Tails Animal Hospital: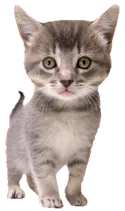 Primary and preventative care: We offer full veterinary medicine services. These include vaccines, parasite testing, radiology, laboratory services, and more. We carry both popular and economic parasite preventative options and practice patient-focused medicine. We believe that vaccinations and preventative care should be tailored to each individual's risks and needs.
Surgery and dentistry: We are happy to offer surgeries such as neuter, spay, tumor removal, and laceration repair. We also offer dentistry at a very competitive price. Our dental procedures include x-rays, cleaning, and extractions or restoration as needed. For more complicated cases, we can utilize a board-certified surgeon that will perform the procedures for your pets at our hospital and we will provide the recovery care.
Urgent Care and walk-in services: Due to the current pandemic we do not offer walk-in appointments at this time. Please make sure you contact us for an appointment. We are trying our best to keep the facility clean and sanitize between every appointment.
End of Life and Hospice Care: The toughest part of our relationships with our pets can be making a decision or letting go of our loved ones. We provide consultation for terminally ill or debilitated pets in order to decrease or end any possible suffering. We like to take an approach that is least stressful for the pets and clients involved. It is crucial for us to take our time and talk to our clients about the decision making process and the procedures.