Meet the friendly staff at Happy Tails Animal Hospital!
Meet the Vet! Dr. Arzhang Ashkan (we call him Dr. AJ) graduated from Virginia-Maryland Regional College of Veterinary Medicine at Virginia Tech in 2014. He has lived in Northern Virginia since 2003. He started his career with animals at the age of 16 in a grooming salon. He later became a pet groomer. He worked as a veterinary assistant and a groomer while attending vet school. He lives in Sterling with his wife, two cats and a chinchilla. Dr. AJ has an interest in dermatology and dentistry.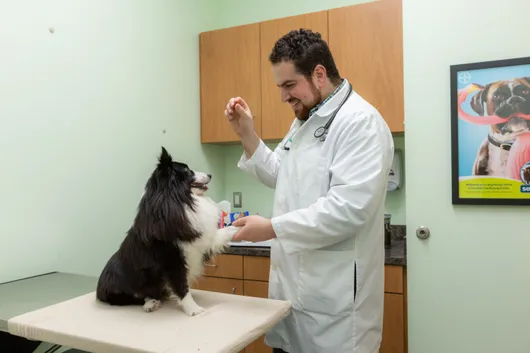 Malina is currently owned by 2 dogs, a German Shepherd and a Belgian Malinois 2 cats, and a coupleof aquariums. She likes working with her dogs in her free time. She grew up with countless animals as well as a brother and sister. Her pets have included a hedgehog named Puppy, multiple chinchillas, rabbits, parakeets, snakes, hamsters, a gerbil, and a turtle she snuck into the house and had fully set up....without her mother's knowledge. The past few years she has been working doggie daycare because working with critters is in her blood. Malina has known Dr. Ashkan since he was a junior in high school, and she was even littler than she is now. She is looking forward to the opportunity to help care for all your furry friends.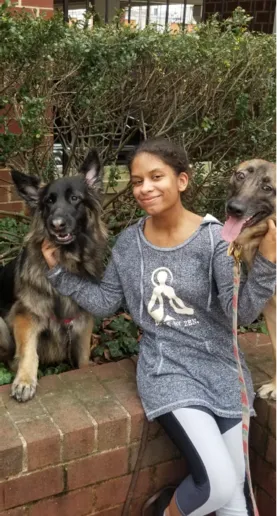 Hillaire joined the practice in September of 2019 as a veterinary assistant and is now the office manager. She graduated Penn Foster in March of 2019 from their Veterinary Practice Management program. She genuinely cares for every client's pet like they are her own. In her off time, she enjoys going to the movies and taking beach trips with her family. She also likes taking her 4 pups on long walks and hikes.
Maylea has worked in animal care for 7 years. She owns two cats, Boo and Tito Burrito. She has lived in Northern Virginia for five years and became a Leesburg resident in 2018. Maylea is attending George Mason University majoring in business management. Outside of work and school, she is likely to be seen at local breweries and regional parks. She is our clinic's cat whisperer.